The BoutiqueBuilder Suite
Software Suite BoutiqueBuilder
BoutiqueBuilder is an e-commerce platform designed for the management of huge volumes websites. Whenever an e-shop needs an e-comemrce solution, its needs are usually varied : Software, hardware, organization.
The BB Suite covers these three points :

Content Manager : Software for HTML pages management on the Front Office (online shop & content)
Commerce Manager : Commercial and logistics management software
Hosting : Provision of the technical and hardware infrastructure
BoutiqueBuilder's advantage is that it is a robust and efficient solution, developed and maintained by the same team since 2001, of which we can develop any functionality. At BoutiqueBuilder's, we adapt ourselves to our customers' needs when necessary.
Content Manager : E-shop and content.
BoutiqueBuilder includes a 100% customizable e-shop, that enables the development of completely different websites through the same technologic "core", whether the differences concern the graphics design or the functionnalities. Whatever your graphics design is, you will be able to integrate it in BoutiqueBuilder, as long as the "basics" are applied.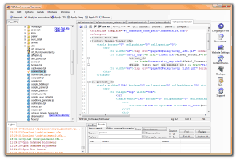 By using our "Remote Toolkit", you have full access to all your HTML code, with two distinct environments (test for developments, and production for the website). Thanks to the specifically developed programmation language, you have access to the main functions that will add dynamic to your pages (define variables, test them, loop on a request...), as well as other functions(date/time, mathematics...).
Easy to use, the Remote Toolkit enables direct action on any page without our contribution, but you may also ask our technical teams to do it for you.
To be more serene, the Remote Toolkit keeps track of the last 20 changes of each page...
Commerce Manager : Commercial and logistics management.
Because selling is useless if one can't ship, BoutiqueBuilder hands its customers the "Commerce Manager", a powerful commercial and logistics management system 100% dedicated to e-commerce. Handle your products catalog, your supplies, your sales, print your preparation tickets, manage your bills and credits directly in your "Commerce Manager"...
Commerce Manager has hundreds of functions, and can be interfaced with any other system.
Needing only a web browser, you can manage your activity almost anywhere, externalize your customer service, your logistics...
Developed to minimize operating costs of an e-shop, "Commerce Manager" automates all repetitive tasks and pilots your exploitation.
Hosting & Hardware
All our solutions being available in ASP (Application Service Provider), BoutiqueBuilder has to propose the best hosting available. Two things are essential : The host, and the racks' content. The host gives BoutiqueBuilder ground space, electricity, air conditioning and redundant internet connection. BoutiqueBuilder assumes everything else without any intermediate.
The host
The host used by BoutiqueBuilder for its hardware was built in 2008, and offers the latest technologies :
2 EDF (electricity provider) entries
Double groups UPS
Double generators
Double air conditioning
Internet circuit connected by DWDM redundant optic fiber with a capacity of 120Gbps.
Internet brewing through redundant racks.
4 badging levels / Armored doors / 24/24 7/7 Monitoring
The racks
Able to host 46 servers each, BoutiqueBuilder's racks hold all the necessary servers and equipments for e-commerce shops operating :
Firewall
CISCO Internet switches
CISCO DMZ switches
CISCO Intranet switches
APC (electricity) switches
Load Balancers
DELL webservers
DELL database servers
DELL backup servers
All the architecture's hardware is property of BoutiqueBuilder.
To assure an optimal operating of the infrastructures, the servers are systematicaly replaced after 3 years, 4 years for any other hardware part.
In order to preserve its infrastructure at best, BoutiqueBuilder deploys its customers' e-shops on at least 4 front servers (average of 8) with constant load balancing and failure detection, including all load balancing equipments (active/passive doubled load balancers). If a server crashes, everything still works as usual.
All day and night monitoring
In order to guarantee an optimum service, our servers are auto-monitored each 20 seconds, and services rebooted after 3 negative answers.
Our center in Sophia-Antipolis checks all of our servers each 60 seconds and, if a problem is detected, a SMS is sent to the person in charge of the monitoring at this time.
The 24h monitoring is assured by three professionnals who assume 24h monitoring each three days, one after the other. Warnings are always and only managed and sent by SMS, using an unique number based on our internal SMS platform. In case of emergency outside office hours, our customers can send a message to ask for an intervention.